It's moving so fast now that experts are going to have to adjust the official model for global navigation later in the month. They believe the increase in polar drift could have resulted from "hydromagnetic waves" rippling across the planets molten iron core.
Back in early 2018 researchers from NOAA and the British Geological Survey discovered that our model of the geomagnetic field was about to pass unacceptable margins of navigational error. After the north pole had crossed the international date line in to the eastern hemisphere it became official.
Our geomagnetic polar axis does have a tendency to shift around and change speed, but they don't usually have to adjust the actual cartography to compensate for such changes.  It doesn't help that it begin to move quick shortly after officials reported their measurements last year. Experts plan to finalize the new coordinates on January 15th.
Researchers hypothesize that the increase in geomagnetic drift is partially due to surface phenomena, and partially due to underground activity deep inside of the planets molten iron core. Back in 2016 scientists discovered a huge jet stream of molten iron beneath the north pole-   A 420 kilometer anomaly spinning around at 3 times the speed of ordinary lava. "The jet seems to be smearing out and weakening the magnetic field beneath Canada" Phil Livermore, a geomagnetist at the University of Leeds, UK, said at the American Geophysical Union meeting.
Back in July of 2018 scientists suggested a connection between the sinking of cool mantle slabs in to the Earth and the speed of pole shifts after discovering a significant time delayed correlation between the two data sets. Furthermore, the two landmasses- Canada and Siberia appear to be in some kind of geomagnetic "tug of war".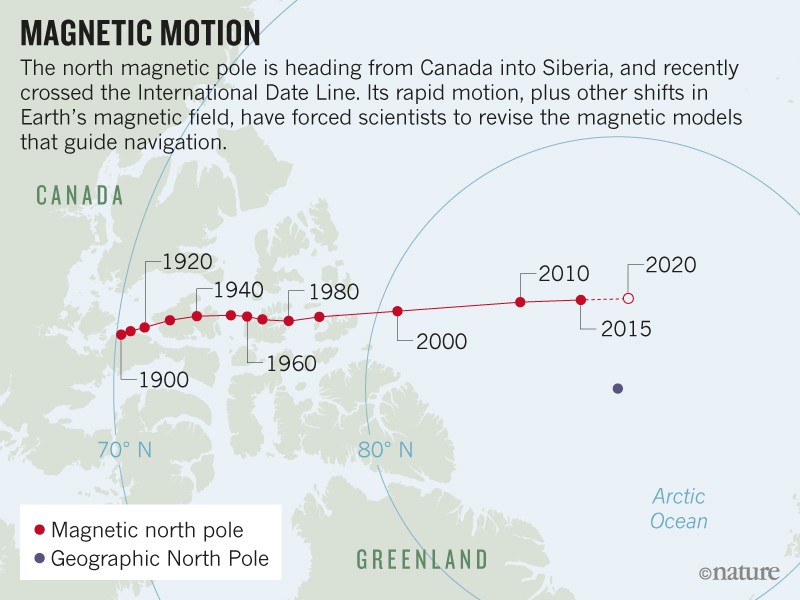 As you can see the magnetic north pole began picking up pace in the 1980s although it's been met with considerable resistance since 2010, experts may have to adjust their projections to account for recent acceleration.
"The location of the north magnetic pole appears to be governed by two large-scale patches of magnetic field, one beneath Canada and one beneath Siberia," Livermore says. "The Siberian patch is winning the competition."
"The location of the north magnetic pole appears to be governed by two large-scale patches of magnetic field, one beneath Canada and one beneath Siberia," Livermore says. "The Siberian patch is winning the competition."
Source
Earth's magnetic field is acting up and geologists don't know why